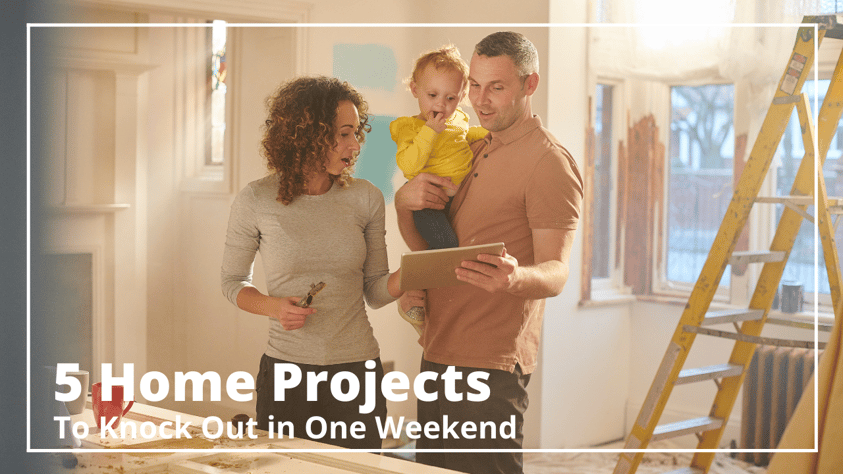 Spend a weekend tackling these home projects!
Do you have some home projects filling up your to-do list but can't seem to find the time to check them off? Here are five quick home projects that you can finish in just one weekend!
1. Organize Your Storage
Is there a closet, drawer, or area in your home that is screaming for organization? An easy, inexpensive and versatile weekend project is to step up your storage game. Grab some plastic bins or baskets to provide organization to any space. These storage solutions come in all shapes and sizes, so there is something to fit your needs!
If you need to quickly take inventory or identify items, try using clear bins. For larger items, gravitate toward baskets
Organize like items into categories to identify how many bins you will need and what sizes to look for.
Pro Tip: use labels. Labels help you quickly know where things go, and you have easy access to whatever you need.
Liven Up Wood Furniture
A quick way to breathe new life into an outdated piece of furniture is to give it some TLC, starting with a fresh coat of paint. You can quickly and easily change the style and look of wood furniture with a new stain or coat of paint.
Whether you are looking to stain or paint your wood furniture, it is important to remove dirt and wax buildup with household cleaner. Follow up with a good sanding of rough areas, and wipe away dust.
Painting: If you're painting, grab a stain-blocking primer and apply two coats, allowing dry time between each coat. Then, with a brush or roller, apply two coats of the paint color of your choice in the direction of the wood grain. If you want a smooth stroke finish, use a brush for your last coat!
Staining: If you are looking to change the look of your unfinished wood furniture apply the stain with a sponge or rag, making sure to stain with the grain as well as against it. You want to get an even, rich tone across the entire piece. For a deep stain, leave the stain on the wood for 5 to 10 minutes before wiping it off with a cloth. You can also build up your stain by applying a thin coat first, then allowing the piece to dry before adding a second coat. For a lighter stain, immediately wipe the surface after applying the stain. When you are happy with the stain, let it dry for 24 hours before applying a topcoat to protect from wear.
Pro Tip: If your wood furniture is finished with a topcoat, you can't use a stain, but you can use a colored coating or paint to change the color.
Gallery Wall
Is there a blank wall in your home that you have no idea what to do with but know you want something that isn't a major time commitment? Follow these steps and you'll never have to suffer from a blank wall again!
Collect!
Put together a collection of photos, art, prints or whatever else you love! While you are collecting, think about the scale of your collection compared to the arrangement you want. Do you want a uniform look where everything is the same size, or do you want to mix sizes and shapes for a more unique look?
Decide on a Theme
Once you are happy with your selection, it is time to pick out your favorites and group them by themes, such as family, vacations, favorite memories, or whatever means something to you. If you are collecting art or prints, consider focusing on colors that will compliment your room décor or the tone of the room. There is no right or wrong way, so choose colors that make you happy!
How Many?
How many pictures are going to work best for the look you are going for? If you are going for a more balanced gallery wall, an even number may work best. For a more random arrangement, consider an odd number.
Measure
Time to measure your canvas (wall space) and lay your collection out on the floor. Step back and look at the collection, allow space between each piece for frames. Is anything jumping out in a bad way? If so, remove it.
Take pictures of your potential combinations to decide which one you like best.
Frames for Days
When you are happy with your layout, you can get your frames. There are a few questions to ask yourself:
Are you looking for frames to be the exact same or do you want different colors, or sizes?

Would you rather have a collection of different style frames but in the same color?
Layout
After you have your collection in frames, it's time to decide on layout. Lay your framed pieces on the floor in front of the wall to visualize your layout. Do you want organized rows or a unique arrangement? Do the framed pieces still fit your ideal plan, or do you need to switch anything out? When you are happy with your layout take another picture, so you remember your plan.
Hanging
There are different approaches you can take, but one great option for visualizing is to take old newspaper, trace each frame and cut out a stencil for each picture. This will allow you to tape the stencil directly to the gallery wall without making any marks directly on your wall.
If you are looking to avoid marking up your wall, a great tip is to grab some toothpaste. Take a small amount of toothpaste and place it on the picture hanger. This will leave a small, temporary mark to identify where you need to place a nail. Hold your picture frame directly over your newspaper stencil and press the toothpaste onto the wall. Once you remove the frame from the wall, you can hammer your nail in the middle of the toothpaste. After your nail is in the right spot, you can easily remove the newspaper stencil
Final Look
Congratulations! It is time to take a step back and enjoy your creation! Remember, your gallery wall is fluid and can easily be swapped or updated as often as you feel.
Install a New Shower Head
Do you need better water pressure or maybe just looking for an easy upgrade to make a big splash? Decide what you want from your shower experience. Should you go with a fixed, handheld, or combo showerhead? After you have selected your new showerhead it's time to get home and make the switch. Follow these steps and you'll be on your way to transforming your shower experience in no time!
Turn off the shower faucet so you don't get drenched.

Unscrew the old showerhead, you may have to use a wrench. If so, cover the jaws of the wrench with masking tape or place a soft cloth around the neck of the showerhead to avoid scratches.

Clean the hard water buildup, gunk, and dirt from around the threaded pipe in the wall and dry the threads.

Using plumber's tape, wrap the threads in a clockwise direction. This will create a watertight seal between the new showerhead and the pipe which will prevent leaks.

To attach the new showerhead, screw it clockwise into the taped, threaded pipe.

Turn the hot and cold faucets on to check for leaks. If you see one, turn the water back off and tighten the showerhead some more.
Paint Your Front Door
Want to give your home an updated look but don't have the time for an intense project? Consider giving your front door a splash of color.
Buy Samples: Paint doesn't always dry the same as it looks on a paint swatch. Grab some paint samples to see how they will look next to the brick, siding, landscaping etc. If you have multiple colors you are considering, number your samples, then paint a swatch on the door in order from left to right to keep track of which color is which.
Grab a Door Wedge: It is important for the door to stay steady and in position when you're painting. A wedge will also help keep the door from accidentally shutting and smudging a fresh coat of paint.
Get the Edges Right: The rule of thumb among professional painters is to paint the side that is open into the room the color of the interior. Then the side that is open to the outside of the room should be the exterior color.
Are you an avid do-it-yourselfer with on a tight schedule with a weekend to spare? If so, give one of these projects a try! By tackling your home project list one small task at a time, your home will be feeling refreshed and rejuvenated in just one weekend.