Should I Rent or Buy a House?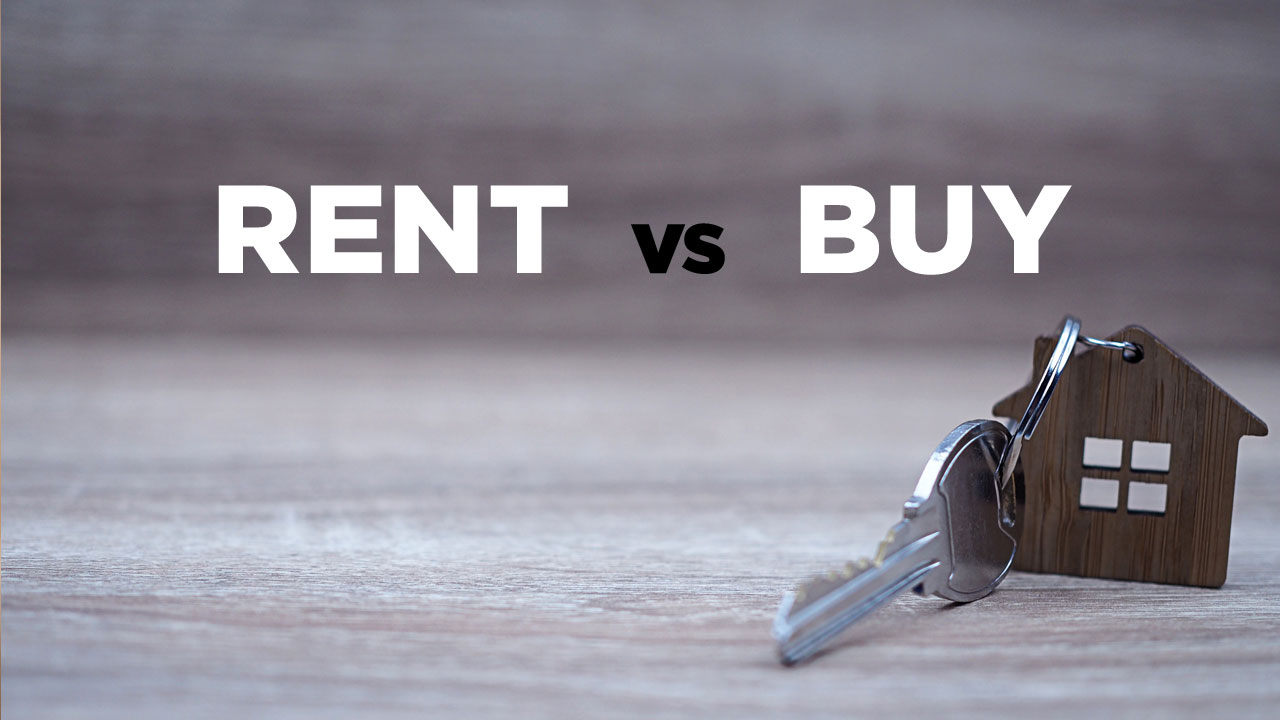 ---
Before we dive into the nitty-gritty of should you rent or buy a house, there's something you need to know: there's a right answer, but it's not as simple as you may think.
The answer is completely dependent on your personal situation.
Some people want to purchase a home, others don't. Some people want to move every few years, some don't. Some want the luxury of having no maintenance to take care of. Others thrive on the freedom that comes with homeownership.
So, it really comes down to you.
When is the right time to stop renting?
For many, it isn't a question of if, but when. "When should I buy?" "When should I stop renting?" "When should I start saving for my down payment?" "How much do I need for my down payment?"
It can get overwhelming quickly, so it's best to take the questions one at a time. Because, again, it really comes down to you, your situation, and what you're looking for in terms of your future.
You should buy when you're ready. You should stop renting when you're ready. You should start saving for you down payment when you can.
Benefits of owning a home
If you're thinking about buying or even if you're months or years away from it, then you need to be aware of the benefits that come with owning a home.
Some might seem a little obvious, but there's a good chance you've overlooked or don't know about many of the benefits owning your own home includes.
Freedom and flexibility to do what you want with the space. Paint the walls. Put new flooring down. Plant flowers wherever you want in the yard. Put in a fire pit. The options are nearly endless.

With a fixed-rate mortgage you don't have to worry about your monthly payment ever changing.

As you pay your monthly mortgage, you'll develop equity in your home, which means over time your home will increase your net worth. Being a homeowner is an investment.

You aren't sharing paper-thin walls with anyone. Renting, especially in an apartment, condo, or duplex means sharing spaces like laundry rooms. It also means sharing walls with your neighbors.
Benefits of renting
If you're already renting, then you know what the benefits are because you're enjoying them now. Some of the benefits are obvious, but it's important to consider them as you weigh the pros and cons of homeownership.
Not being responsible for major maintenance or upkeep. In some renting situations, there isn't even grass to be mowed. There's something to be said for being able to call a property management company to fix the leak in the upstairs bathroom rather than deal with it yourself.

Renting, depending on the type of rental, can mean less space to keep clean and organized.

Freedom and flexibility to move wherever when your lease is up. If you like to move around, then this can be a huge benefit as it's a little difficult to move an entire house.

Utility costs could be lower or nothing at all depending on your situation. Some renters enjoy utility free housing, homeowners pay for all their utility expenses.
Buy a home or rent, which is right for you?
Now that we've explored some of the benefits of owning a home and renting, you need to seriously weigh them against each other. What's more important to you, your finances, your family, and your future. To help you, here are some questions to ask yourself:
Do you enjoy do-it-yourself projects or fixing things?
Move beyond cleaning because no matter where you live, there will always be cleaning. This is more about bigger projects like mowing the yard, changing air filters, HVAC maintenance, and of course covering the cost of things like plumbing issues.
Yes, some renters are responsible for mowing and light house maintenance, but not like homeowners. If there's an issue like a leaking faucet, a homeowner is responsible for tackling the project themselves or calling in a pro. Renters simply call their management company to take care of the issue.
Another factor to keep in mind is your furry friend (or friends). Many apartments aren't pet friendly and the ones that are have restrictions on size and breed, which might mean that Rover won't make apartment living easy. As a homeowner, though, you aren't restricted on any of that.
This isn't to scare would-be-homeowners away from purchasing, but to set the proper expectations. If you aren't ready to take on the challenges that come with homeownership, then you might want to stick with renting for now. But, if you're ready and excited about learning new skills, then homeownership could be a great thing for you!
Do you want to decorate with no restrictions?
We mentioned this in the above section in the homeowner's benefits, but seriously consider your desire to make a space your own.
As a renter, you're typically limited in the design and décor of the space you're living. When you own a home, it's yours to create and style however you want. That means painting the walls whatever color you want. You can hang art and pictures on the wall with no fear of losing your security deposit.
Along with decorating comes remodeling. When you rent, you're stuck with the space until your lease is up. Sure, you could move out at the end of the lease, but then you have to pack everything up, search for a space that fits your new needs and style. Who knows if you'll ever find a rental that does that.
When you own your home, you can remodel it to fit you. Need a bigger kitchen? Knock down the wall separating the kitchen and dining room. Want more storage? Expand your master closet and reduce the footprint of the bedroom next to it. The possibilities are relatively endless.
What kind of neighbors do you like having?
We can all agree one of the more difficult aspects of renting is shared walls. When you rent, you can't pick your neighbors, so once you move in, you're stuck until your lease is up. When you purchase a home, you can take the time to get to know the neighborhood before deciding.
How someone cares for the exterior of their home can sometimes be a good indication on what kind of neighbor they are. Plus, you're only sharing property lines, not walls, unless you choose to purchase a condo, which could share a wall space.
How much space do you need?
If you live alone and plan on keeping it that way, then maybe an apartment provides the perfect amount of space for you. If your family is growing or plans to grow, then you'll most likely need a little more space, otherwise, it will feel like you're all living on top of each other.
Here's the great part about monthly mortgage payments: if you're renting a house or large apartment, you can most likely purchase a home and not increase your monthly payment that much. In some cases, you can even lower your monthly payment. Bonus: the space will be yours and you'll be investing in your future.
Do you enjoy spending time outside?
For many renters, apartment life limits outdoor time to small patio or deck, which means traveling to a park or community is required for spending time outside. Those who rent homes have a little bit more freedom and flexibility to be outside but are most likely restricted on what they can do too with the yard.
When you own a home, your yard is, well, yours. You can plant flowers. Remove a tree. Have a deck or patio installed. Put a fence in so you don't have to walk your dog in the middle of the night. The possibilities are endless. So, if you enjoy being outside, then homeownership might be perfect for you as you'll have access to outdoor areas 24/7.
Do you like moving around?
Renters have the advantage of moving after their lease is up, which means if you enjoy moving around to different neighborhoods or even city to city, then renting might be a great solution. Homeowners tend to want to put roots in the ground. They're tired of moving from apartment to apartment. Once you find the house you love, you move in and stay for several years, at least.
The bonus of homeowners is their monthly payment doesn't increase, they don't have to box up their belongings, or go through the process of find and looking at a new place to live once their lease is up.
So, should you rent or buy a house?
If you lean more towards homebuyer based on the questions above, then you're ready. If you're still enjoying the freedom of moving from apartment to apartment and not being responsible for maintenance work, then renting is probably for you!
It's crucial to remember only you can make a decision like purchasing a home.
But, know if you're ready, there are great options to help get you there. Don't let your credit score deter you away. And, if you're worried about a down payment, know there are plenty of programs designed to keep your down payment low and needing to put 20% down to qualify is a myth.
If you're confident your answer to "should I rent or buy a house" is buy then contact one of our qualified, licensed Mortgage Consultants today to learn more. Or, start the process online or from your phone using Mortgage Express, our free, secure mobile app.
---