5 Ways to Save for Your Home Down Payment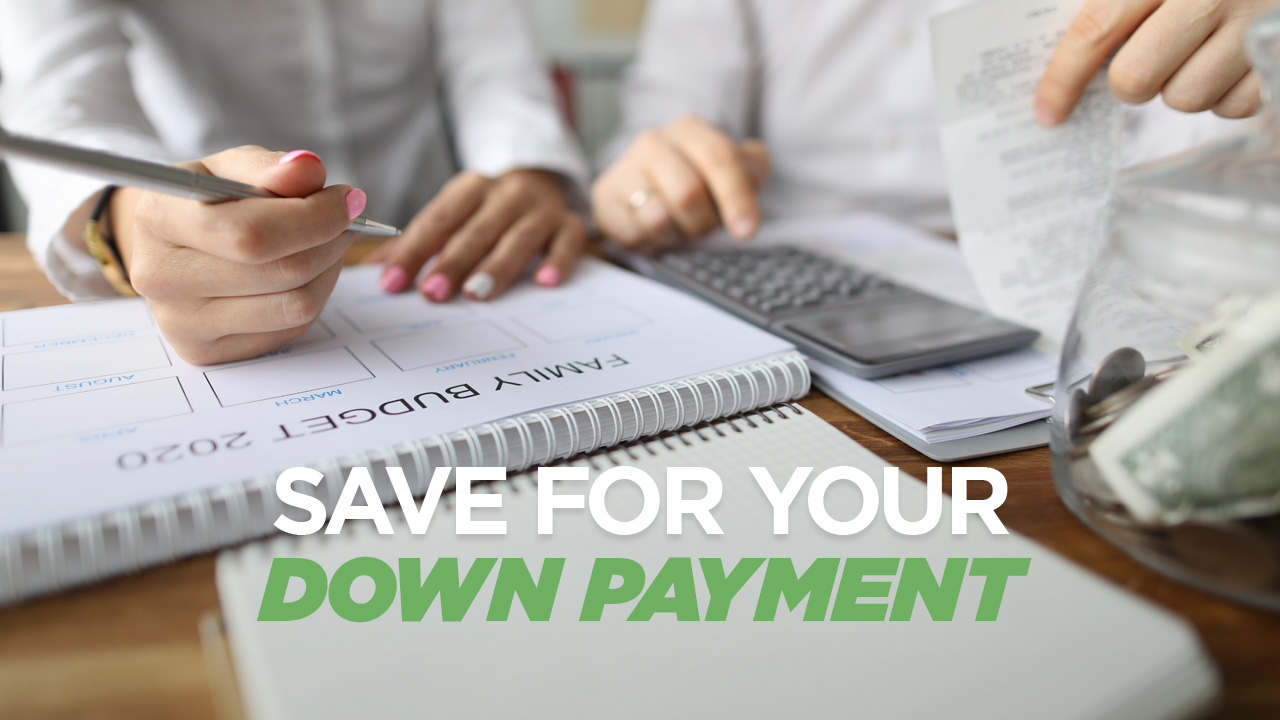 ---
Saving money for a down payment on a home can seem impossible. After monthly bills are paid and unexpected expenses like car maintenance pop up they can throw a curve ball in your whole plan. That doesn't mean saving for a down payment is impossible though!
This doesn't mean you must cut out all fun spending or activities! Instead of trying to make drastic budget changes, consider adjusting your spending habits gradually. Little changes can make a big difference over time. Start where you're at right now with these five easy tips!
1. Reduce Television Streaming Subscriptions
How many television streaming services do you subscribe to? The cost for a streaming service is relatively low. This can make it easy to add another one to your credit card bill without thinking of the impact. Try to narrow it down to only one subscription.
Most of these streaming services are available on a month-to-month basis, so you can rotate which one you subscribe to depending on what shows and movies you're interested in!
And while you're at it, tidy up your email subscriptions. It can be easy to lose track of how many shoe stores, clothing websites, and retail stores we give our email address to. A daily inbox alert from your favorite clothing or shoe company can entice unnecessary or impulse spending.
2. Switch Up Your Restaurant Orders
Saving money doesn't mean you can't dine at your favorite restaurant; it just means making a few small adjustments. This can be as simple as not ordering a soft drink or cocktail and sticking with water. When it comes to appetizers, remember to share. An appetizer is often large enough to share among a table. This can help save money and save room for the meal!
Don't stop at the appetizer. Restaurants often serve large portion entrees, making them perfect for sharing. After all, what's more romantic than sharing your spaghetti on a date night?
If you're dining out with your family, remember that many restaurants offer deals or discounts for children's meals. Some places even have designated nights of the week where kids eat free!
Another easy method to save is using coupons. Check your weekly paper for coupons or the restaurant's website for online deals. This can often mean a few dollars back in your wallet that can go directly toward your down payment without giving up your favorite entrée.
3. Set a Gifting Budget
From Christmas to birthdays to graduations, we give a lot of gifts throughout the year. While we may want to give our favorite nephew the two-day pass to Disney World that he really wants, it's important to not spend beyond your means. Birthdays can be especially challenging for parents, as they often host a party as well as give gifts.
You can still give a thoughtful gift without breaking the bank. When shopping for presents, set a spending limit for each gift and don't go over that amount. This spending limit should apply for every gifting situation, not just birthdays.
Don't forget that homemade gifts can be just as special as something purchased at the store!
4. Meal Plan
It's easy to overspend at the grocery when you don't have a plan. Make it a weekly habit to sit down and plan your meals for the following week. If you don't have time to plan every meal, start with your dinners. From Betty Crocker cookbooks to Pinterest ideas, there are so many dinner recipes to keep meals new!
Meal planning makes it easier to write up a grocery list and help you avoid impulse spending at the grocery store.
Bonus tip: Avoid shopping on an empty stomach. Being hungry while shopping often leads to unnecessary (and unhealthy) items being added to your cart.
5. Use the Envelope System
It's easy to just swipe a credit card, but that method also makes it easy to spend beyond your financial means. Ditch the credit card and try paying with cash as much as possible. This allows you to have a tangible feel for the amount you spend and what it goes toward.
But how will you set a budget? Try the envelope system. Envelopes can be used for more than just sending snail mail to your grandma! They're a handy budgeting tool.
Using envelopes to budget might sound silly until you see the savings start adding up. So, pull those envelopes out of the desk drawer and make a list of your weekly spending. These expenses should include everything from groceries and gas to your morning coffee. Label each envelope with its corresponding spending purpose and estimate the amount of money you will need to tuck inside it.
It may take some practiced discipline to limit spending to only cash inside the envelope. That's why it's helpful to restart this process and budget at the start of each week.
At the end of the week, take all remaining money and put it into savings. Evaluate where you need to allow for more cost and find areas you can reduce spending. Review and adjust your estimates week to week! Eventually, you'll have more money left at the end of the week set aside for your down payment!
Adjusting a budget can be difficult and will probably be frustrating and challenging before it gets easier. It can feel like you are making very slow progress and that you won't reach the down payment amount you need.
But luckily for you, needing 20% for a down payment is a myth.
Depending on the loan program, you may only need 0-5% for a down payment. The closer you are to saving the down payment amount you need, the closer you are to getting into your new home!
Ready to explore options? Start your application today!
---