7 Ways to Enjoy Your Springtime Indoors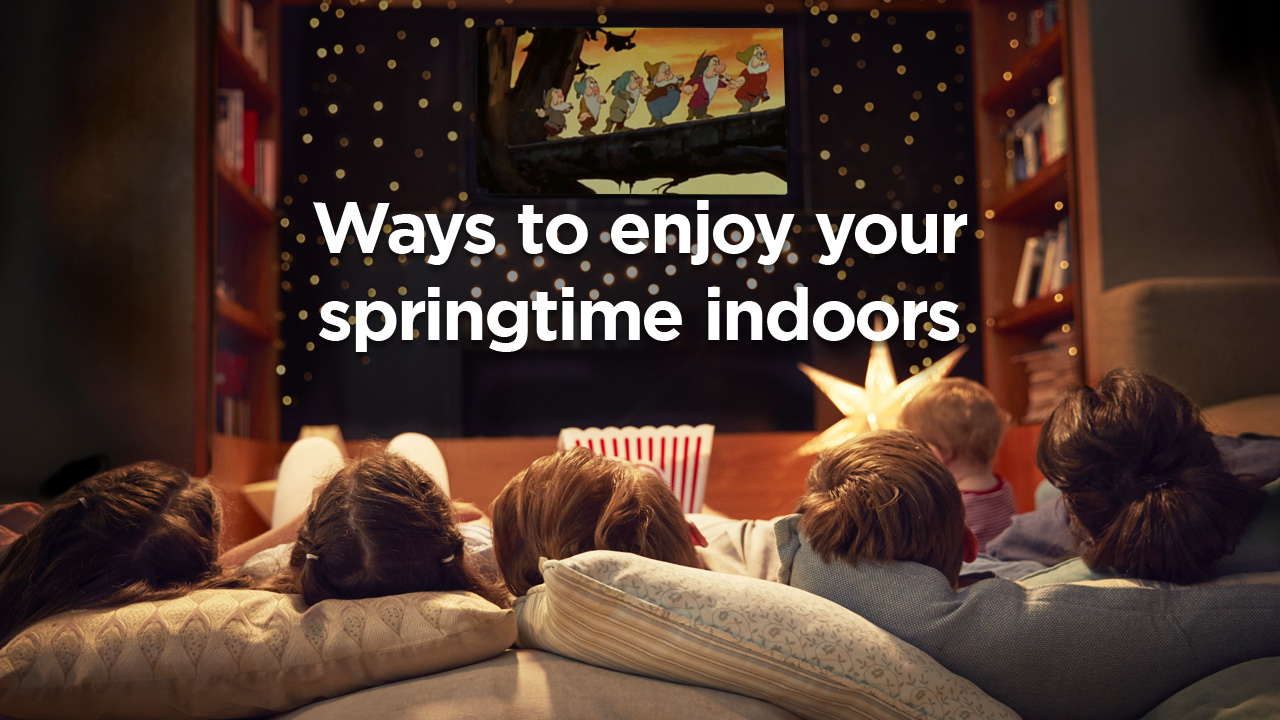 ---
Spring can mean blossoms, but it can also bring lots of rain, gray clouds, and chilly days. For those gloomy days, we put together some of our favorite ways to cheer up while indoors!
1. The Great Family Bake-Off
Baking is a fun and delicious indoor activity. From brownies to pies, there are so many options. Our suggestion for optimal fun? Cut-out sugar cookies!
Sugar cookies not only taste delicious, but they are fun to make from beginning to end. You can even bring spring to your kitchen by using flower or rainbow-shaped cookie cutters. After the frosting has been layered on, add some extra fun to the cookies with colorful sprinkles. For maximum sprinkle coverage, pour sprinkles into a bowl and dip the cookies in the bowl frosting side down.
To add even more fun to the mix, have a decorating contest! Play for points with challenges like: Who can use the most sprinkles on a cookie, best design, and the largest cookie sandwich?
2. Home Cinema
There's nothing more fun than going to see a movie.
You hold that ticket stub in your hand as you sit down in the plush, red cushions of a theatre chair. Butter and salt cover your hands as you munch on buttery popcorn. You sip on soda as intense previews play on the big screen. The noise roars through the speakers. So why not bring that experience to your own home?!
If you really want to get the darkened movie theatre effect, bring some chairs in to your living room from the kitchen table and drape blankets over them. Watching a movie nestled underneath a blanket fort is always fun! And, if blanket forts aren't your style, it's just as much fun to make popcorn and add toppings of your choice. From caramel sauce to M&M's, the sweeter the better!
A home cinema is a great way to plan a fun, inexpensive family night! If you really want to get nostalgic, pop in old home videos to reminisce and laugh at.
3. Can You Find the Prizes?
If you're looking for a brain teaser, create a homemade scavenger hunt! Use riddles to give hints about where the prizes are hidden throughout your home. The trickier the clues the better, because it will help kids use their critical thinking skills, as well as, have fun trying to find the hidden locations.
For this scavenger hunt, hide prizes around the house. Some recommendations for prizes include coloring books, word searches, or sudoku puzzles.
4. Family Games
It's easy to forget about board games in today's smart phone-driven world. So, break out the old board games like Trouble or Life or Parcheesi. Switch it up and shuffle a deck of cards for a round of Crazy 8's!
5. Bring Spring Inside with Watercolors
Get your creative juices flowing with some watercolor painting! To keep the Spring theme, we suggest flowers. It's fun to personalize the shape and colors of the petals to your own liking. Did you know that by adding a pinch or two of salt to the watercolor while it is still wet, the salt will disperse and create texture? Not only will you be able to look at the beautiful flowers you paint, but you'll be able to feel them as well!
6. Homemade Birdfeeders
One of the best parts about spring is the singsong chirping of the birds as the weather warms. But isn't it better when you can watch and hear the birds? Bring them right to your window with homemade bird feeders!
There are many different types of birdfeeders and you can make them out of various materials. Big or small, make sure you're using the right tools for the project! Once these feeders are up and filled, place them close to a window, so you can watch the birds as they fly by for a snack!
7. Hallway Spy
Do you have any leftover streamers lying around from past birthday parties? Put them to good use by hanging them strategically throughout the hallway and pretending they are lasers. Never underestimate the thrill when pretending to be a spy as you dodge lasers!
While it's never ideal to be forced indoors on a Spring day, that doesn't mean you can't make the most of it!
Whether you are playing a board game, painting your favorite flower, or settling in for a movie night, there's fun to be had! And, keep in mind, rain and gloomy days won't last forever.
Now that we've shared some ideas, we're curious, what's are some ideas you have for having fun indoors?